Children's Dentistry in Ajax, ON
The best kids' dentists understand your children's fears and concerns and have the skill and experience to handle common childhood dental issues. Dr. Saeid Jafarpour, Dr. Kevin Kwong, and Dr. Azza Elhaddad, your Ajax, ON dentists at Ajax Dental Care, explain how children's dentistry helps your children maintain good oral health.
At What Age Should My Child's Various Teeth Come In?
Healthy baby teeth act as guides for the eruption of your child's permanent teeth which appear later. If the baby teeth and decay are not repaired, they may be lost too early. This can cause crooked permanent teeth.
Healthy baby teeth help the child to chew food well, speak properly and have a pleasant appearance.
Your child's first tooth will appear or erupt at about six to eight months. By three years of age all 20 baby or primary teeth will have appeared. The chart below shows the approximate age that each primary tooth erupts and is lost or shed.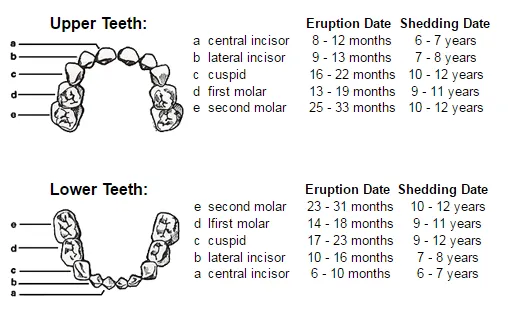 *Information and charts courtesy Alberta Health and Wellness
As children near six years of age, their jaws grow in order to make space for the permanent teeth. The first permanent teeth to erupt are usually the six-year molars in the lower jaw followed by the lower permanent incisors. The chart below indicates the dates when the permanent teeth will likely appear.
What Can I Do to Help My Child's Teeth Stay Healthy?
Training your baby for a lifetime of healthy gums and teeth should start early, long before he or she actually goes to the dentist. Start by gently cleaning your baby's gums with a clean washcloth before the first teeth come in. As soon as the first teeth erupt, you need to start cleaning them for your baby. You should brush your child's teeth for them until he or she has developed enough coordination to tie his or her shoes. Once your child is able to brush you should supervise brushing until the age of 8. Make sure your child uses a toothpaste containing fluoride, and uses a fluoride rinse if recommended by your dentist. Children's teeth should be flossed if they fit closely together.
Other things you can do to ensure good dental health for your child include:
Not putting a baby to bed with a bottle containing milk, juice or any liquid other than water
Encouraging your child to avoid sweets and sticky foods
Teaching your child to brush after snacking
Checking your child's teeth for white, yellow or brown spots, which can be signs of decay
Making sure your child visits the dentist every 6 months. Cavities in baby teeth can progress quickly.
What is a Sealant?
A sealant is a clear acrylic that bonds to the tooth to form a protective barrier in the pits and grooves of the back teeth. This makes the teeth more resistant to decay. All adult back teeth should be sealed soon after they erupt to help prevent decay. Your dentist may also recommend sealants for your child's back baby teeth if they have deep pits on the biting surfaces. Sealants are the best preventive treatment that your dentist can provide for you and your children. If the sealant chips later you should have the tooth re-sealed because with the sealant gone the tooth can be more prone to decay. Sealing adult permanent teeth in grown adults can also be a useful treatment for long term health.
For more information on Children's Dentistry in Ajax, ON,
call Ajax Dental Centre at (905) 426-8304 today!