Posts for: February, 2018
By Ajax Dental Center
February 16, 2018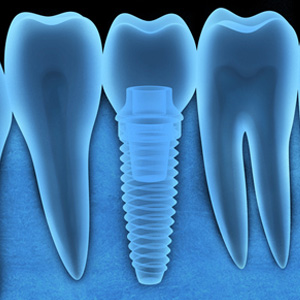 Dental implants are today's closest restorative facsimile to natural teeth. And they're versatile: not only can they replace single teeth but they can also support bridges or dentures.
But since one of their crucial components is made of metal, are you out of luck obtaining this state-of-the-art dental restoration if you have a metal allergy?
The answer is: probably not—it's rare for implants to cause an allergic reaction. Still, metal allergies can be a potential problem within your mouth as with other areas of health.
An allergy originates from the body's necessary response to potentially harmful microorganisms or substances. Sometimes, however, this response becomes chronic and exaggerated, creating an allergy. People can have allergies to nearly anything with responses ranging from a minor rash to a potentially life-threatening multi-organ system shutdown (anaphylactic shock).
A small number of people have allergies to particular metals. One of the most common is nickel, which affects an estimated 17% of women and 3% of men; cobalt and chromium are also known to cause allergies. Consumer exposure, particularly metal contact with the skin through jewelry or clothing, is the most prevalent, but not the most concerning. That's reserved for metal allergies related to medical devices like coronary stents or hip and knee prostheses. And in dentistry, there are rare occasions of inflammation or rashes from metal amalgam fillings.
Which brings us to dental implants: the main metal post that's inserted into the jawbone is usually made of titanium. It's the metal of choice for two reasons: it's bio-compatible, meaning the body normally accepts its presence; and it's osteophilic, which means bone cells readily grow and adhere to it, a major reason for implant durability.
While it's possible for someone to have an allergy and subsequent reaction to implants with titanium, the occurrences appear to be extremely low. In one study of 1,500 patients, titanium allergies were estimated to be a factor in implant failures in less than 1% of those studied.
Even so, if you have known metal allergies you should make sure your dentist knows. Being aware of all the facts will help them recommend the best tooth replacement choice for you—and hopefully it will be dental implants.
If you would like more information on dental implant restorations, please contact us or schedule an appointment for a consultation. You can also learn more about this topic by reading the Dear Doctor article "Metal Allergies to Dental Implants."
By Ajax Dental Center
February 01, 2018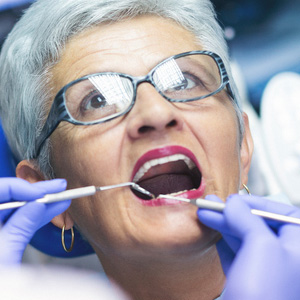 As we age we become more susceptible to dental diseases. A common but often initially unnoticed problem for seniors is root decay.
We're all familiar with tooth decay in the crown, the visible tooth above the gum line. Bacteria feeding on leftover sugar in the mouth produce acid, which at high levels erodes the teeth's protective enamel. This forms cavities and, if untreated, deeper infection within the tooth that could reach the bone via the root canals.
But decay can also directly attack a tooth's roots below the gum line. Roots are made of dentin and covered by a very thin layer of mineralized tooth structure called cementum.  Cementum, which is much softer than enamel, is often lost because of its thinness, thus exposing the root's dentin. This can make the area more susceptible to decay than the enamel-covered crown. Normally, though, the roots also have the gums covering them as added protection against bacterial infection.
But gum recession (shrinkage), a common experience for people in their later years, can expose the root surfaces. As a result, the roots become much more susceptible to decay. And an ensuing infection could spread more quickly into the interior of the tooth than decay originating in the crown.
That's why it's important to remove the decayed material and fill the root cavity to prevent the infection's spread. While similar to a crown filling, the treatment can be more difficult if the root cavity extends below the gum line. In this case, we may need to perform a surgical procedure to access the cavity.
There are other things we can do to help prevent root cavities or limit their damage. We can apply fluoride varnish to strengthen the teeth and provide extra protection against cavities, or prescribe a fluoride rinse for use at home. We can also keep an eye out and treat periodontal (gum) disease, the main cause for gum recession.
The most important thing, though, is what you do: brush and floss thoroughly each day to remove bacterial plaque and limit sugary or acidic foods in your diet. Preventing decay and treating cavities as soon as possible will help ensure you'll keep your teeth healthy and functional all through your senior years.
If you would like more information on preventing and treating tooth decay, please contact us or schedule an appointment for a consultation.