Posts for: February, 2012
By Ajax Dental Center
February 15, 2012
If you are unhappy with the appearance of your smile and would like to change it, we can help you determine what will work best, from a simple whitening to brighten your smile to a complete smile makeover — the possibilities are almost limitless! Consider a "Smile Design" customized just for you. One method of improving your smile is with porcelain veneers. Porcelain laminate veneer tooth restorations are thin layers of dental ceramic — a glass-like material created by dental laboratory technicians, the "artists" who exactly mimic natural teeth making them straighter, whiter, and brighter. They are used to replace worn, dull-looking stained enamel. In addition to making your teeth and smile whiter and brighter, veneers can even be used to change tooth shape and color, close small spaces, and reshape slightly crooked or mis-shapen teeth.
In order to determine if porcelain veneers are a viable solution to help you achieve the smile you have always longed for, consider the following questions:
Do you want to permanently alter the appearance of your smile?
Are you hoping to make improvements to your smile that don't take a very long time to complete?
Are you looking for a way to improve your smile with minimal or even no removal of your natural tooth material?
Would you like to have more evenly aligned teeth?
Do you want to change the color of your teeth?
Do you want whiter teeth and a brighter smile?
If the answer to one or more of these questions is yes and whitening or other treatments have not given you the smile you want, we can help you assess the feasibility of porcelain veneers as one of the many options to enhance and improve your smile. We can fully discuss all the benefits, risks, alternatives, and costs associated with improving your smile.
Call us to make an appointment for a Smile Design consultation and we can get started. If you would like to read more information about porcelain veneers, as well as see a few before and after photos, read the Dear Doctor magazine article "Smile Design Enhanced With Porcelain Veneers."
By Ajax Dental Center
February 07, 2012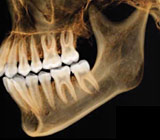 CAT scans or Computer Assisted Tomograph scans have been around for years. However, it is quickly becoming the new standard in dentistry. The reasons are clear both literally and figuratively, as they provide our office with millions of pictures so that we can combine them together to create 3-dimensional (3-D) images. Prior to this technology, we could only image the body in 2-dimensions with x-rays (radiographs) — a technology first developed by Roentgen.
One of the best features of CAT scans and CBCT (Cone Beam Computed Tomography) scanning is that they enable us to see and experience the body from the inside. Having this ability changes (and many times) improves upon the way we diagnose. Here's how they work in very simplistic terms. Picture your favorite multi-layered cake with each layer representing an image. A three-layer cake requires just three images. For us to build a 3-D image similar to the cake, we require millions of very thin layers (images) that we put together, one on top of another, until our results, one 3-D image. And by having so many thin layers, we are best able to diagnose. For example, in our cake analogy, it is easier to determine if the cake contains finely chopped nuts, berries or other ingredients when you cut numerous very thin slices of cake to examine versus having one large chunk of cake.
It is important to note that in our office we may not recommend using this technology in all cases, as it may not be necessary for your particular diagnosis and/or treatment. While the technology can prove invaluable, it is quite expensive and a simple 2-D x-ray may provide everything we need. However, some dental specialty areas where CAT scans are currently used include:
Orthodontists and pediatric dentists
Cosmetic dentists and tooth replacement specialists (prosthodontists)
Oral surgeons
Root canal specialists (endodontists)
Gum specialist (periodontists)
To learn more about CAT scans and how they are used in the various specialty areas, read the Dear Doctor magazine article "CAT Scans in Dentistry." Or you can contact us today to schedule an appointment to discuss your specific questions.